Get More Killer Tips
Subscribe To Our Mailing List And Get Interesting Stuff And Updates To Your Email Inbox
Thank you for subscribing.
Something went wrong.
Making money online has never been easier.
Although many people are still a bit suspicious when it comes to earning some extra cash on the internet, the truth is that this option is great not only as a temporary source of income but also as a way of earning a livelihood.
A number of various online jobs have appeared over the past few years, and if the nine-to-five schedule makes you cringe, you can easily make a career change and start working from the comfort of your home.
So, regardless whether you're looking for occasional freelancing gigs or a permanent remote employment, the opportunities are vast.
Sell the stuff you don't use
Let's be honest and admit that we all have tons of stuff we buy and almost never use.
Remember that there's only a fine line between being a pack rat and a hoarder, so instead of keeping those clothes, books, knick-knacks, or pieces of furniture and letting them gather dust, put them up for sale on specialized sites.
Not only will you declutter your house, but you'll also be able to retrieve at least a portion of the money you wasted.
Become a freelance writer
If you're eloquent and good with words, then becoming a freelance writer is the right career for you.
There are virtually tons of writing jobs online, and you can pick the niche you're interested in, and even make some serious money.
According to the US Department of Labor, the median salary for technical writers in 2016 was $69,850 per year.
If your interests lie elsewhere, and if you're more into lifestyle or marketing topics, then you can earn somewhere in the vicinity of $25 per hour as a freelance writer.
Stock photography
A picture is worth a thousand words. If you're taking photos all the time, why not capitalize on your collection?
Freelance photography can be lucrative, especially for those with a keen eye for detail and good photography gear.
There are literally hundreds of sites where you can upload your works and start making money.
People with impressive collections can even turn their photography passion into a source of substantial passive income.
Participate in online focus groups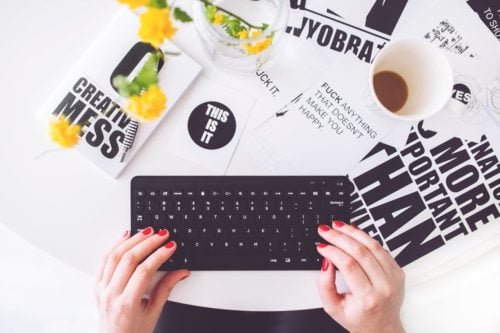 Companies need to know what customers think about their products or services, and they're willing to pay for their feedback.
If you're wondering how to get paid online decently without having to put too much effort into it, then online surveys are the best answer.
In other words, all you have to do is review various products, express your opinion, and earn some money doing it.
It's possible to make between $10 to $150 for a surveying session, which is great for getting your hands on some quick cash.
Online tutoring
This is an amazing opportunity to share your knowledge and skills, help other people, and get paid for that.
If English is your native language, then you can make a good career out of teaching foreigners to speak it.
Although it's possible to land this job even if English isn't your mother tongue, people are willing to pay a lot more in order to have an opportunity to be able to practice their language skills with a native speaker.
Become a virtual assistant
Small businesses and startups with shoestring budgets usually can't afford to pay full-time assistants and they need help with all kinds of administrative, bookkeeping, or even marketing tasks.
That's why many of them hire virtual assistants to help them by performing all these things remotely.
So, if you're an organized person skilled at micro-management, and if sending emails, ordering supplies, or making appointments while you're sitting in your living room sounds good, then this is the job for you.
Since this position usually allows flexible work hours, it can be your extra gig.
Sell your crafts
People with crafting skills can turn their hobbies into full-fledged careers.
If you design clothes, make jewelry, or small decorative gifts, you can list all your products on one of the specialized websites and start selling.
It's also a good idea to take advantage of social media networks and discussion forums in order to promote your products and expand your audience.
Website design
Building and designing websites is a well-paid job and if you're skillful you can easily make a couple thousand dollars a month.
However, if your skills leave much to be desired, and yet you have a talent for design, you can take a course to develop it and learn tricks of the trade.
Start by building your own website as your portfolio and show your potential clients what you can do.
Play video games
Now, this can be a win-win situation if you're a game aficionado, as it's possible to enjoy your favorite pastime and earn some money at the same time.
Namely, almost all consoles have a built-in streaming option which means that you can stream out your game while playing it.
Believe it or not, but a lot of people are willing to pay a subscription and watch.
In order to build an audience, start with some classic games as they're the most popular ones, and also give a running commentary.
What's more important is that you don't have to be an exceptionally skillful player, because what you lack in skills, you can make up for with being funny and cracking jokes.
Making money online: test websites
This another way of making easy money without having to break your back.
Good websites have to be well designed, easily navigated, and user-friendly, and that's why companies need to measure customer experience and see whether their website design and usability should be improved.
These metrics are extremely important for online businesses because according to some recent surveys, 79% of customers who aren't satisfied with website performance aren't likely to purchase from the same website again.
So, you can earn somewhere around $10 for a 20-minute test, which is a decent amount.
Rent your home
Although this isn't a strictly online method of making money, renting your apartment or just a room for a short period of time can be a great way to earn some extra cash.
There are lots of websites where you can list your home and find guests.
Don't expect to strike it rich, but if your apartment is comfortable, and If you get positive ratings and reviews, you can actually make a healthy profit on this practice.
Just make sure that you're in compliance with all municipal regulations when it comes to taxes and rental income.
Answer questions
If you are an expert in a certain field, you can help others by answering their questions and be paid for that service.
There are platforms that can connect you with people who have some technical questions, and who could benefit from your expertise and experience.
Amounts of money you can earn depend on the field you specialize in and the level of your expertise.
Just make sure that the website you're offering your services to is reputable.
Conclusion
As you can see, no matter what your education or hobby is, a job of your dreams might be just a click away.
An online job allows you to organize your time better, avoid exhausting and time-consuming commuting, not to mention make even more money than with a traditional job.
Some of the ideas:
Freelance jobs: https://www.freelancer.com
Stock photography: https://submit.shutterstock.com/payouts
Tutoring: https://tutorme.com/apply/
Web Design: https://www.upwork.com/
Play video games: https://www.videogamespaymybills.com/
About the Author
My name is Alex Williams. I am a journalism graduate, and a rookie blogger trying to find my luck. Blogs are the perfect opportunity for presenting yourself to wider audience, getting the chance to showcase my expertise and receiving recognition. I am a regular contributor at Bizzmark Blog.
Featured image:
Image source: LifetimeStock