Get More Killer Tips
Subscribe To Our Mailing List And Get Interesting Stuff And Updates To Your Email Inbox
Thank you for subscribing.
Something went wrong.
Feel like your Instagram marketing has no direction at all?
Are you randomly choosing what visuals to share each day?
Do you think it's time that you take your Instagram moves to another level?
I'm glad you're here because I'm going to share with you, specifically, how to build your brand on Instagram. 
Building your brand sets you apart from thousands of Instagram accounts and helps your target audience find you and engage with you.
Let's get started!
To inspire you and give you ideas, I'm going to show excellent examples of Instagram accounts who keep their pages and posts on brand and how they do it.
Five Ways To Build Your Brand On Instagram
1. Use your logo
What's branding without a logo?
Three ways you can make the most out of your logo for your Instagram page.
First, use it as your profile photo. Nike, H&M, Time Magazine, and other top brands are doing this. It's one of the instant ways their audience can easily recognize them on Instagram.
Your logo is your brand's face – assuming, of course, that you're not as well-known as Bill Gates, Elon Musk, and Mark Zuckerberg.
Second, add it to the images you're sharing. Usually, companies share quotes and they include their brand name or logo in the visual. Just like Forbes and Forbes.
Forbes places their logo at the bottom left.
Whereas Foundr keeps it at the bottom center at all times.
You can also add it to the photos that you take. Stock photo agency, Getty Images, is a good example of this. They never miss to take the opportunity to keep their photos on brand and promote their expertise.
Third, include your logo in your Instagram pictures. Dunkin Donuts makes it fun. They don't manually put their logo name but they include their packaging – which has their logo – in the photos. Engaging, right?
2. Use your Instagram handle
One way to engage with your audience and promote your brand is to ask people to tag you in their posts.
Here's a great example. Pottery Barn. They ask Instagram users to tag them in the caption.
Another effective way to use your Instagram handle is to put them in your photos. One of the popular comics Instagram accounts, "Yes, I'm Hot In This", does this.
So even people just share your visuals and not your entire Instagram account, they can still know where else to follow you.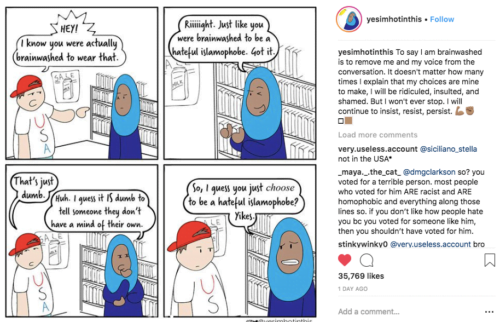 3. Use a branded hashtag
Do you have an official hashtag for your brand? It's about time you have one.
Apple encourages their audience to engage with them by using the hashtag #ShotOniPhone. This a smart move to promote your product and what it can do and engage with your audience as well.
Whole Foods Market has their own hashtag too, #MakesMeWhole, which allows them to promote their brand and their cause which is healthy living and eating.
4. Keep it visually in sync
Using the same colors or shades of colors and taking gorgeous photos help you stand out on Instagram.
If there are Instagram pages who can make their visual content so beautifully in sync, that would be fashion, food, and travel bloggers.
Rainbow Plant Life's page is colorfully on point. She makes it sure to share food photos that are vibrant and lively in colors and she also makes it sure that they pop.
One of the most-followed lifestyle and travel pages, Lauren Bullen, keeps it consistent by sharing travel photos, bringing out the color of the water, and using the same color tone.
5. Stick to one copywriting style
If you want to be an educational page, keep your copy educational and professional. If most of your audience are young adults, keep your copy engaging and fun.
A perfect example of this is NASA. As we are all aware of, NASA is an agency of the US government. They have to keep it professional. It would definitely be out of line if they do their copies in an inexpert way.
Lego is another perfect example. Lego is for the kids or for anyone who is a kid at heart. They have to make their copies like their products, fun and friendly.
Instagram may be visual-oriented social media platform but it's necessary to still keep your copies on brand.
Four Online Tools You Can Use to Build Your Brand on Instagram
1. Adobe Lightroom CC
Going to take your photos? As long as you have a smartphone with a great camera, why not?
But to build your brand and to make your brand colors pop more, edit the colors of your photos to emphasize the colors you want to be recognized for.
Adobe Lightroom CC helps you achieved that. What I love about this is that they have an app version of this so you don't need to open your laptop. Just take a photo then go to the app to edit. Simple and quick.
2. LogoAi.com
Don't have a logo yet? No worries. You can create one in minutes, or even seconds. LogoAi.com generates numerous logo designs for you and all you have to do is select and customize it.
What's more, this logo tool creates your brand guideline for you so you'll know what fonts, and colors you have to keep on using to achieve visual consistency.
3. Visme
Want to share quotes or tips on Instagram? Visual tool like Visme is easy to use.
Simply go to the section where you can create social media graphics, select Instagram and it will show you Instagram post templates you can use and edit.
4. Instagram itself
Certainly, Instagram can help you build your brand more. It's more than just social media for photo sharing.
Don't simply edit your visuals or take photos then leave. Engage with others.
Like and comment on other people's posts especially when they tagged you, commented on your post, and used your hashtag.
You can also even like posts that aren't using your hashtag but are using a hashtag related to yours.
If you're from a food business, you can like posts who used the hashtag #foodie #foodporn. Engage with people who love what you also love.

Be part of a community, don't just promote.
Brand Guideline For Instagram Marketing
Now you know the different ways and tools you can use to build your brand, the next step is to ask yourself these:
To put or not to put a logo?

To add or not to add your Instagram handle in your visuals?

If you're going to add a text, what font should you use?

What colors are you going to use or emphasize more?

What's your company's hashtag?

What's your copywriting tone?
You can also brainstorm with your team so you'll get to know your brand more and come up with a brand development strategy.
Conclusion
If you're looking to build your brand on Instagram, it definitely won't happen overnight. It takes time and effort.
You have to:
Be committed to it,

Maintain visual consistency,

Engage with other Instagram users.
What do you think is the most important among these three?
Let me know in the comments or if I missed an idea, just let me know. 🙂