Get More Killer Tips
Subscribe To Our Mailing List And Get Interesting Stuff And Updates To Your Email Inbox
Thank you for subscribing.
Something went wrong.
Since the past decade, Social Media has become a go-to-catalog for E-commerce businesses.
For instance, shoppers are unboxing products on YouTube, pinning styles on Pinterest, posting new fashion arrivals on Instagram, and flipping stuff on Facebook.
Because of this, social media giants are also releasing new features to allow users to shop products directly within their platforms.
Instagram, for example, added a "shop now" button. Twitter, according to Rode, is also planning to launch brand pages to browse and buy products. And Facebook has had the "buy button" since 2014.
Now if we go back to the days before social media, ways to sell products were limited. Emailing, cold-calling and directories were the only tools to reach potential customers.
Today, however, E-commerce brands have numerous marketing options with social selling being the number one tool.
What is Social Selling?
Social selling is all about leveraging social media platforms like Facebook, Twitter, LinkedIn, Instagram, and Pinterest to actively engage with potential buyers and find opportunities to sell products.
In recent times, social selling has become a new norm to reach potential customers.
The immediacy of social media platforms allows both customers and E-commerce brands to have direct contact, which minimizes the hesitancy and increases the chances of more sales.
Simply put, social media platforms can help your E-commerce brand build trustworthy relationships with customers, expand your business reach, drive more traffic, and increase sales.
Although, in order to realize these benefits, you need to have a deep working understanding of how these platforms work.
In addition, the E-commerce space has also become crowded in the last 3 years. So, making your brand stand out will be tough. Therefore, you must take time to learn the best ways to sell on social media platforms.
But on the bright side, if you can figure out how social selling works, then you can take your E-commerce brand to the next level! Specifically, here are the main 4 reasons you should immediately start using social networks.
4 Reasons to Embrace Social Media in Your E-Commerce Business
Believe it or not, but we're living in an era where every brand needs to be on social media if it wants to survive.
So, in addition to an intuitive website, you need to have an active presence on social media platforms for the following 4 reasons:
1 – Your Potential Customers are Already on Social Media
 A majority of your customers are already on social networking platforms. For instance, there are about 327 Million people in US and of those, 220 Million regularly use Facebook.
According to Search Engine Journal, engagement on Facebook videos is 109% higher than YouTube. Another interesting fact is that Facebook ranked second as the platform to drive the most ROI, while Google being number one.
Instagram, on the other hand, also reached one billion users milestone in 2018. In fact, according to this source, active Instagram followers are worth more than active Facebook users.
Now, if we look at the statistics of all social media platforms, there are nearly 3.48 billion people worldwide on different social media channels. And if we dig deeper, then here's a breakdown of how much time people spend on top social media platforms.
40 minutes on YouTube
35 minutes on Facebook
15 minutes on Instagram
20 minutes on Snapchat
The point is, if you've not created your e-commerce brand page on Social networking platforms (and clearly, you should), then you're losing hundreds if not thousands of customers every day.
2 – Increases Your Brand Recognition
Another reason to embrace social media in your E-commerce business is that it helps expand your visibility and increases recognition.
For example, you can actively post compelling content on social networks that add value to your target audience, which can make your brand more familiar to potential customers.
Imagine this – a potential buyer stumble upon one of your posts. He might have not heard about your brand before. But by going through all your posts on different social media platforms, he learns more about your business, the products you sell, and the value they provide.
Now, he may not buy a product right away but he starts following your brand. And after regularly seeing your brand content regularly, their interest in trying out your product may increase, leading to making a purchase eventually.
In addition, that potential buyer might share your content with his network, leading to more people checking out your brands' content on social media and repeating the same cycle.
Besides this, being active on social media networks might also trigger your existing customers to be better acquainted with your brand, increasing their interest in a repeat purchase.
3 – Each Social Media Platform Help You Reach a Specific Audience
Above we discussed how being active on social media can expand your brand's visibility and recognition. But, one might think that being active on all social media platforms needs a huge amount of efforts to create content regularly.
You are right. But what you might don't know is that you don't need to be active on each social media platform out there. You can reach your target audience based on the social media platform they're most active on.
For example, take a look at the following image: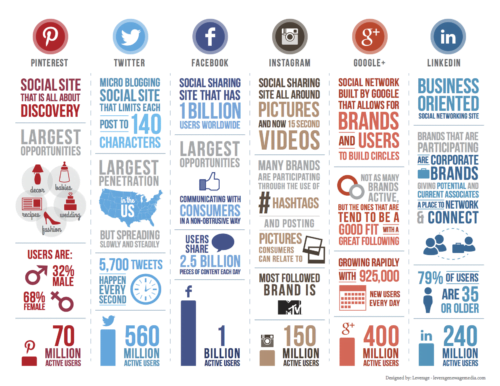 With the above information and the type of product you're selling, you can easily find your potential customers on one of many popular social media platforms.
You see, the key to successfully leveraging the power of social media platforms is to strategically choose the right channel to invest time, money, and efforts in.
Simply put, rather than posting inconsistently on all social media platforms, you should be active on one or two platforms where a majority of your target audience spends their time on.
This way, you will be able to reach a large base of potential customers and drive more relevant traffic to your e-commerce store with less amount of efforts.
4 – Social Media Can Boost Your SEO Rankings
There is a 99% chance that you're already focused on improving your rankings in Google's SERPs. But, did you know that your presence on social media is Google's ranking factor? Yes, if you have a great social presence and immense traffic coming to your website from all the social channels, it will boost your ranking.
Wrapping Up
Well, SEMRush recently shared the top social media activities that search engine consider in their algorithms.
Make sure to explore all the above critical tips and check where you are missing for being a successful brand on social media.